2021 Census: Overview
A Census or population count has taken place once a decade in England and Wales since 1801 (except 1941) and is the only time every person and household is counted right across the UK.  The Office for National Statistics (ONS) is responsible for the census in England and Wales, and carried out the most recent in March 2021. The Census remains the largest single source of social statistics in England and Wales, and so release of the data will be in a number of stages.
The first set of data was released on 28th June 2022, and for local authorities includes usually resident population by age and sex, the number of occupied households and population density.
Further data will be released every two to three weeks throughout autumn and winter 2022, and will be based on key topics:
demography and migration
ethnic group, national identity, language and religion
health, disability and unpaid care
housing
labour market and travel to work
sexual orientation and gender identity
education
UK armed forces veterans
Area profiles will also be released late in 2022, to allow users to view statistics from across different topics for a particular area and compare local statistics for an area against national statistics.
Population Change
The 2021 Census estimates that Sandwell has 341,900 residents, a rise of 11.0% since 2011. This compares with a rise of 6.3% in England and Wales. The previous Census in 2011 saw a reverse of the declining population trend experienced since 1971. The latest Census sees the population of Sandwell growing to an even higher level than that in 1971.
The 11% rise in Sandwell since 2011 is the highest in the West Midlands Metropolitan County area, the next highest being in Coventry (8.9%). The county and the region overall have seen rises similar to the national growth.
Of the 341,900 residents in Sandwell in 2021, 168,200 are male and 173,600 are female.
There are now 130,200 households in Sandwell, compared to 121,500 in 2011 - a rise of 7.2%.
The population density in Sandwell stands at 3,996 people per square kilometre in 2021, compared to 3,600 in 2011.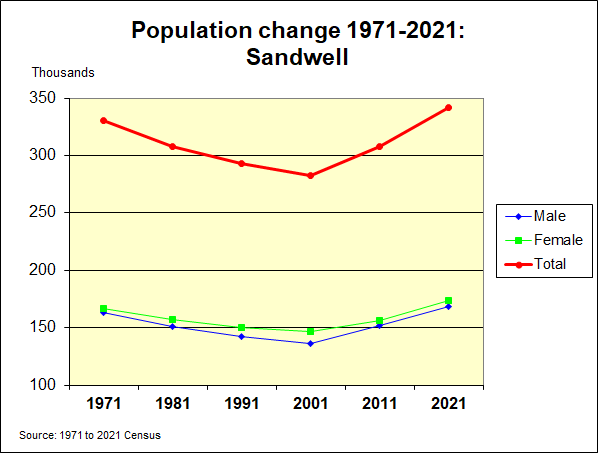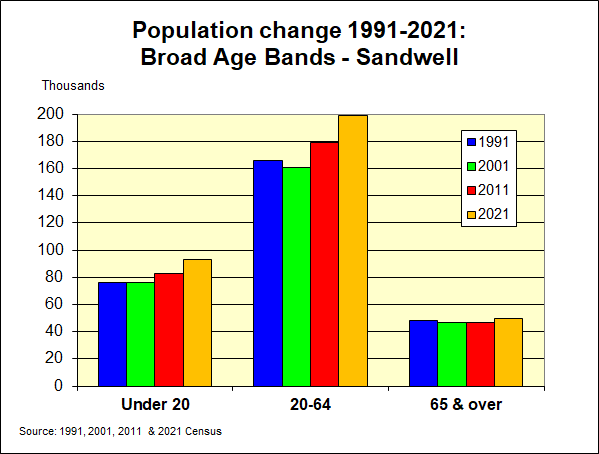 Population Structure
Sandwell's population in terms of broad age bands is shown in this graph.
Between 1991 and 2001, the actual numbers of over 65s in Sandwell fell. However, there has been an increase since 2001, and people over pensionable age now make up 14.5% of all residents, compared with 16.5% in 2001.
The proportion of the population aged 20 to pensionable age has risen by 11.2%, and now makes up 58.2% of Sandwell's population, a rise from 56.8% in 2001.
The number of under 20s has been steadily rising since 2001, with a 13.1% increase between 2011 and 2021.
In terms of 5 year age-bands, the largest increases have been amongst those aged 55 to 59 (+34.2%) and 50 to 54 (+28.4%).
Two other age groups have also seen rises of over 20% - 10 to 14 years (+26.2%) and 5 to 9s (+21.8%).
There have been slight falls in the numbers in a few age groups -  25 to 29s, 4 & under, and 20 to 24s (-2.5%, -2.1% & -1.9% respectively).
You can download the 2021 Sandwell & England data by age and gender here.
The pyramid shows the population structure of Sandwell in 2021, compared with England. As you can see, the population structure of Sandwell is much younger than England overall.
There is a larger proportion of the population aged under 20 in Sandwell.
The proportion aged 30 to 49 is also much larger compared to England.
The proportion of the population aged 50 and over in England is much larger than in Sandwell, particularly in the 65-69 and 70-74 age groups.